Vehicle Registration And Renewal
Vehicle Registration and Renewal
TASJEEL offers a fully approved Vehicle Registration Test service to all customers looking to register a vehicle. Testing is in the respective Emirates by the RTA, Sharjah Police, and Ras al Khaimah Police. The inspection is carried out by qualified inspectors using the latest technologies who will evaluate the vehicle and advise customers if any work is required before proceeding to registration.
Our Testing Centres are fully equipped to help customers through the entire registration and testing process in just one visit. Our Centres also have insurance counters and typing services to help motorists save time and get .
What happens in the Vehicle Registration Test?


The test is the same for both new registrations and renewals. New vehicles within 3 years of first registration after purchased as new from a dealer do not normally require a test on registration renewal, however commercial vehicles and motorcycles must be tested annually.
Our helpful staff will enter the vehicle data into the computerized system and generate a token, which is needed to start the test. A TASJEEL driver will drive the vehicle into the test bay to start the test, while motorists relax in the waiting area inside the air-conditioned registration building.
Our team will then carry out brake and emission testing, followed by the visual inspection. Once the test is complete, the vehicle inspector will hand the documents to the counter and a report will be generated.
If the vehicle achieves a 'Pass', the customer collects another token for registration or registration renewal and may proceed to the registration desk to get the new vehicle registration card.
If the inspection result is a 'Fail', the customer will receive a report listing any faults which need to be corrected before the vehicle can be registered. Once corrected, the vehicle can be retested within 30 days of the first inspection.
If there's anything else you need to know, please visit our FAQ page, or Contact us for further help and advice.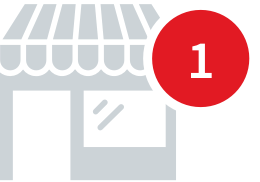 Go to the check-in booth
Select type of service
Take a queue token
Vehicle data tag
Go to the test bay process
Provide the registration card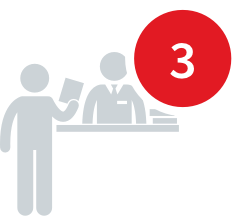 Walk to the information counter
Check documents availability based on services selected
Go to the waiting area (main reception hall)
Wait for token to display on the screen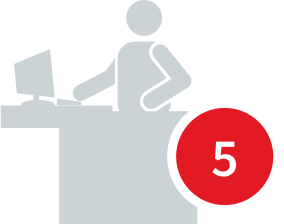 Approach registration counter with token for test certificate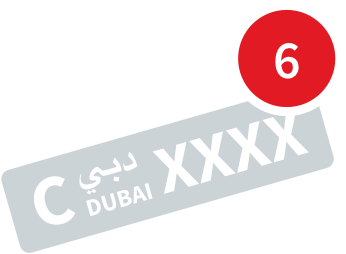 Walk out to designed area for number plate fixing
Show receipt of payment
Show proper location on vehicle
Identity Document
Motorists will also need to bring:
Proof of identity, for example an Emirates ID card,
Plus a copy of their residency visa if appropriate.
Vehicle Documents
Please bring the following documents when registering a vehicle:
The old vehicle registration card, or
Vehicle import certificate, or
Vehicle ownership certificate, or
Customs documentation.
You might also be interested in